Michigan Bass Fishing
Welcome to Traverse City Bass Fishing Guide Service,
Michigan bass fishing.

My passion is being out on the water, and I can't think of a better place to be than on northern Michigan's gin clear waters in the Traverse City area. The waters surrounding the Traverse area not only include two expansive bays off of Lake Michigan, but many inland lakes as well.
Trophy Michigan smallmouth bass are abundant in northern Michigan. Bassmaster Magazine's 2014 rating of the top 100 best bass fishing lakes ranked the Grand Traverse Bays at number 9. Furthermore, 4 of Michigan's 5 lakes mentioned are located in northern Michigan.
The fisheries here are so prolific for bass fishing, northern Michigan and the Traverse City area has been the focus of many national television shows and numerous magazine articles. Traverse City was ranked as the 3rd best fishing town in the country (Field & Stream; Feb. 2008) and in 2005, Fly Rod & Reel magazine listed Traverse as one of its "12 top Fly-Fishing Retirement Towns."
I was recently honored to be voted among the top 3 best charter boat captains in a national poll conducted by Traverse Magazine and Mynorth.com. The bass fishing that I offer is done with artificial lures, and the fishing charters are all done out of a DNR inspected fully-rigged Ranger Z-520 Comanche bass boat. The boat features Humminbird electronics, a big 112-pound thrust Minn Kota Fortrexx trolling motor, 2 Power Pole XLs and a huge 250 hp Evinrude E-Tec motor. I try my best to stay on top of the latest bass tournament techniques, giving you the edge needed to fool Michigan's clear-water bronzebacks.
With water clarity ranging from 20 feet on many of the inland lakes to over 40 feet at times on the Grand Traverse Bays, MI smallmouth bass fishing around the Traverse City area in northern Michigan is a special treat. Early May through October is when we can best target our northern Michigan bass. Come spend a day with me chasing smallies on the shallow sandy flats, or sight casting at cruising smallmouth bass in water as deep as 30 feet or more during the summer.
Contact Traverse City Bass for More Info or to Book a Trip Today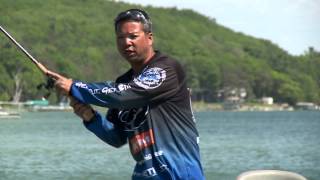 Learn some great tips and tricks with this quick tutorial on jerk bait fishing in clear water. Captain Ben Wolfe of Traverse City Bass talks about northern Michigan smallmouth bass fishing in the Grand Traverse Bay.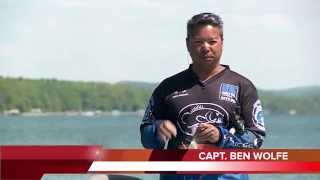 Here's a quick spinner bait lesson using a willow leaf blade coupled with a trailer hook in clear water to improve your chances of hooking a small mouth bass. Captain Ben Wolfe of Traverse City Bass talks about northern Michigan smallmouth bass fishing in the Grand Traverse Bay.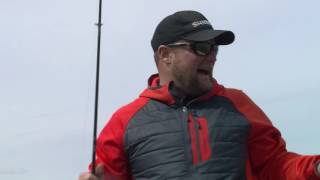 Captain Ben Wolfe and Captain Chad Dilts catch a dandy Norther Michigan Smallmouth Bass on Lake Leelanau. Fishing from Traverse City Bass' Ranger 520Z bass boat. Contact Us to book your Michigan bass fishing trip today.
Smallmouth Bass Sight Fishing with Traveling Ted – Outdoor Adventure Travel Writer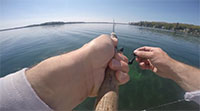 Traverse City Bass hosted Ted Nelson, an outdoor travel writer, for a day of smallmouth fishing on Long Lake in northern Michigan. Read his blog post and check out the great photos and point-of-view videos here: http://travelingted.com/2016/05/31/traverse-city-smallmouth-bass-fishing-sight/
Grand Traverse Bays Recognized by Bassmaster and World Fishing Network as a Top Smallmouth Fishing Location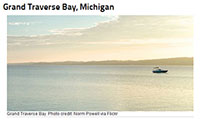 Michigan's Grand Traverse Bays are getting the recognition they deserve as one of the best smallmouth bass fisheries in the United States. As any Traverse City Bass Guide Service customer knows, these bays provide incredible bass fishing opportunities. The high number of fish in the Grand Traverse Bays create some of the most fun and exciting bass fishing not only in Michigan, but in the U.S.
See the World Fishing Network article "7 Best Lakes to Catch Smallmouth Bass" and Bassmaster's Top 100 Bass Lakes of 2014.
Article from the November 14th edition of the Hook n' Look newsletter: HOOK N' LOOK DIVES INTO DEEP BLUE COFFEE!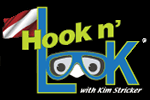 Considering the names of some of Deep Blue Coffee's hand-crafted blends, Traverse City Bass Blend, Anglers Blend, Great Lakes Blend, Hook n' Look is especially proud to announce a promotional agreement with the Traverse City, Michigan based coffee company. Each custom roasted blend displays a satisfying richness which will please any palate. Try some for yourself! We're thoroughly confident you'll agree that Deep Blue Coffee® is unforgettably delicious!
Another one of Captain Ben's fishing companies, Sport Fish Michigan, is also a sponsor of Hook N' Look, beginning in the 2014 season. This partnership with a popular television show will help promote the outstanding fisheries available to anglers not only in Northern Michigan, but state-wide as well. Sport Fish Michigan is a state-wide referral and booking service for the state's top Captains and Guides.