Boat: Ranger 520Z Bass Boat
The boat is a 2009 Ranger Z-520 equipped with an Evinrude 250hp E-Tec. I have two Powerpole XL's on the back to facilitate fishing specific spots as well as making it easier for sight fishing giant bronzebacks and cruising carp. Fishing from a boat also affords the angler the ability to spot fish better and from further away than anglers wading the Bays' extensive flats. I run a 101-lb thrust trolling motor that can easily handle northern Michigan's wind and waves, while also being able to cover a lot of water throughout the day. Additionally, I have two side-imaging sonar units to help us find that offshore honey hole! The boat has been meticulously cared for and serviced, helping to ensure a memorable experience.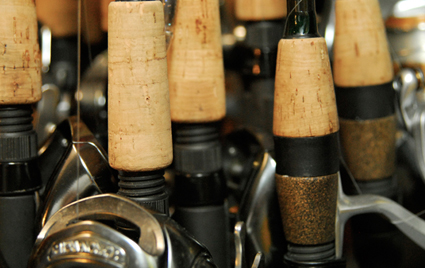 Equipment: Rods and Reels – G. Loomis, Shimano, Sage, Hatch
Rods and reels will be provided for your trip. I firmly believe that tackle and equipment should never be the reason for a less than stellar day on the water, and through years of experience, I only use G. Loomis rods, and pair them with Shimano reels. Fly tackle consists of Sage fly rods paired with Hatch fly reels. I pride myself on providing top-notch quality tackle and gear for my customers. The equipment will also be in clean, top working condition to allow you to be at your best when hooking and fighting that trophy fish.
Even though I always plan on providing the tackle, some customers prefer their own gear, which is perfectly fine. Please don't hesitate to contact me about which setups will be appropriate for your trip.
Contact Traverse City Bass for More Information or to Book a Trip Today