Traverse City Bass Press
Smallmouth Bass Sight Fishing with Traveling Ted – Outdoor Adventure Travel Writer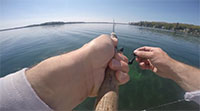 Traverse City Bass hosted Ted Nelson, an outdoor travel writer, for a day of smallmouth fishing on Long Lake in northern Michigan. Read his blog post and check out the great photos and point-of-view videos here: http://travelingted.com/2016/05/31/traverse-city-smallmouth-bass-fishing-sight/
Grand Traverse Bays Recognized by Bassmaster and World Fishing Network as a Top Smallmouth Fishing Location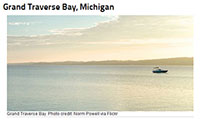 Michigan's Grand Traverse Bays are getting the recognition they deserve as one of the best smallmouth bass fisheries in the United States. As any Traverse City Bass Guide Service customer knows, these bays provide incredible bass fishing opportunities. The high number of fish in the Grand Traverse Bays create some of the most fun and exciting bass fishing not only in Michigan, but in the U.S.
See the World Fishing Network article "7 Best Lakes to Catch Smallmouth Bass" and Bassmaster's Top 100 Bass Lakes of 2014.
Article from the November 14th edition of the Hook n' Look newsletter: HOOK N' LOOK DIVES INTO DEEP BLUE COFFEE!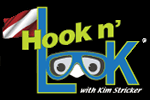 Considering the names of some of Deep Blue Coffee's hand-crafted blends, Traverse City Bass Blend, Anglers Blend, Great Lakes Blend, Hook n' Look is especially proud to announce a promotional agreement with the Traverse City, Michigan based coffee company. Each custom roasted blend displays a satisfying richness which will please any palate. Try some for yourself! We're thoroughly confident you'll agree that Deep Blue Coffee® is unforgettably delicious!
Another one of Captain Ben's fishing companies, Sport Fish Michigan, is also a sponsor of Hook N' Look, beginning in the 2014 season. This partnership with a popular television show will help promote the outstanding fisheries available to anglers not only in Northern Michigan, but state-wide as well. Sport Fish Michigan is a state-wide referral and booking service for the state's top Captains and Guides.